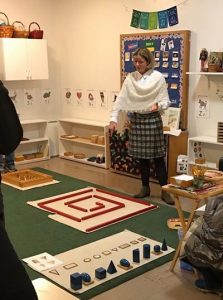 I am  currently a Lead Teacher at nature's way Montessori in Browns Valley, Napa, CA. I have been working in Early Childhood Education since 1991 including years at the Sonoma Waldorf School and The Child Development Center in Santa Rosa, a wonderful place of diversity. I received my Primary Montessori teaching certificate from Ursula Thrush, Montessori of the Golden Gate in San Francisco, in 2003.
I graduated from high school in Germany and came to the US as a physical therapist. In 1985 I was accepted into the Proprioceptive Neuromuscular Facilitation (PNF) continuing education program for neurological patients at Kaiser Hospital, Vallejo. Prior to 1991 I worked at the UC Davis Medical Center in Sacramento, CA.
I switched careers after the birth of our first son. I was absolutely fascinated by having a baby and witnessing the wonder of growth and human development right before my eyes. Never before had I given it any thought, but now I couldn't stop watching and thinking about the brain development of a child. All parents have experienced the awe of waking up their son or daughter in the morning and the child looks distinctly different than the night before. What happened? A tiny chapter of childhood has been completed, and on and on we go.
I offer a strong Montessori curriculum for both, the Young Children's Community (2-3 years old) and the Primary level (3-6 years old). If you'd like to hear in detail about these age groups send me a message.
One of my  favorite topics is parenting, so when the idea of a podcast presented itself to me, I right away saw this as an ideal format to connect with parents. One of my former parents responded by telling me she will listen to the podcast while nursing her third daughter at 2 am. Thanks, Jenna!
I have the great fortune to go to school with my brilliant granddaughter Rose and we spend the day together in joy, wonder and laughter.
I live in the city of Sonoma, CA and my garden holds the promise of pumpkins, watermelons, tomatoes, squash, cucumbers, spinach, kale and many other veggies.